Aurora Outdoor Signs
View Outdoor Sign Gallery
Does your business need an effective way to attract new potential customers and clients to your business? Do you need high-quality window signs, storefront signage, outdoor banners, ADA signs, or any other promotional, brand-building, or assistive signage elements? VitalSigns is your dependable Aurora outdoor signs and graphics provider, delivering the perfect signage elements to suit your business and needs!
A full-service exterior signage provider, we handle sign projects of any size or scope. From creating individual cut vinyl lettering for your doors and windows to producing large-format channel letters, our dedicated experts are skilled in making even the most complex project look simple. Whether you are looking for new business signage for a new location or facility, or want a signage remodel to replace outdated signage elements, we can help.
As experienced signage professionals, we understand the importance of effective, functional signage elements. In order to properly promote your business, brand, and products or services, it must be clearly obvious to those passing by what you have to offer and how they can interact with your business. We create compelling signs and graphics that speak to your brand and can't be missed!
Call VitalSigns at (712) 248-8339 for a Free Consultation!
Storefront & Building Signs

Branded storefront signage not only tells your customers your business name; it can also be an indicator of your brand personality and the type of clientele you hope to attract. Colors, fonts, and other branding elements can all be incorporated into your design for maximum cohesion. If you want a playful sign for your daycare, we may recommend a full-color panel sign. If you want a storefront sign for your high-end salon, we may recommend illuminated channel letters in a feminine font.
Our exterior signage experts work with you to fully understand what you want to accomplish before making smart recommendations based on their experience and expertise. We focus on durability, longevity, and visibility, ensuring your signs are easily seen and look great for a long time.
Ultimately, the choice is yours. Our custom storefront signs are made just for you, specifically crafted to suit your brand, space, location, budget, timeframe, and desires. Let us know what you have in mind for your business, and we will make it happen.
Channel Letters & Dimensional Letters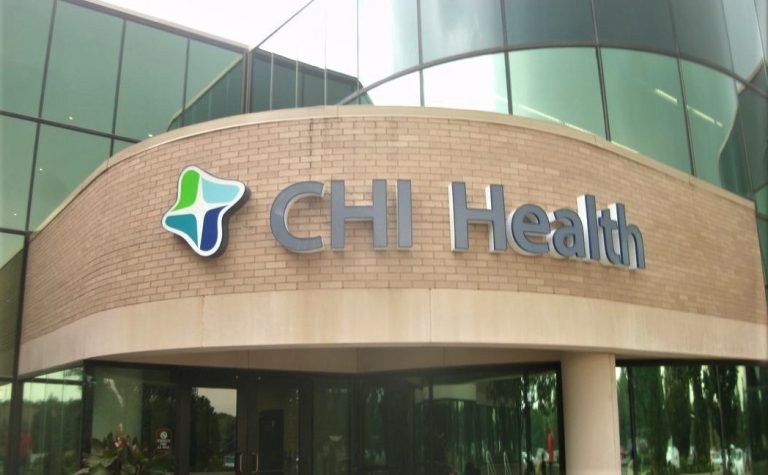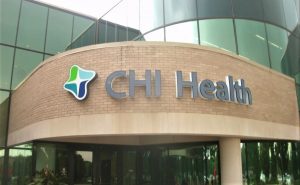 Custom formed channel letters and dimensional letters are commonly requested for many different types of business, industries, and locations. Because of their versatility and high-customization level, dimensional and channel lettering can be perfectly crafted to support your brand, including incorporating your colors, fonts, and even logos, symbols, numbers, or any other shape or element you desire.
Providing an attractive finish that incorporates nicely into your storefront while still maintaining visibility, both solid dimensional lettering and open cell channel letters are a great way to improve the appearance of your facility without compromising new customer generation.
Lighted Signs
Here in Nebraska, not every day is bright and sunny. If you want your business to be visible during all times of day and night, and in all weather conditions, lighted signs are the right choice for your facilities.
Nightclubs, bars, theaters, comedy clubs, restaurants, retail businesses, convenience stores, gas stations, and many other types of businesses find value in lighted signage.
Whether you are looking for a retro-style neon sign, halo-lit dimensional letters, illuminated channel letters, or even adding more traditional lighting elements, we provide high-quality LED sign options that give you the old-school feel at a fraction of the initial and maintenance costs of traditional neon or incandescent lighting.
Custom Sign Panels
One of our most popular and versatile sign products is sign panels. Panel signs are essentially a flat panel, typically made of metal, that is either printed on directly or affixed with cut vinyl elements to create an attractive design. Your panel can use as much or as little information as you would like, from simply your company name to logos, value statements, contact information, or other pertinent information you want to share with existing and potential customers.
Sign panels can also be manufactured from translucent acrylic panels with transparent printing that allows for internal illumination, similar to a cabinet sign or tenant sign panel that would be included in a monument or pole sign. Whether you need large format storefront sign panels or something as simple as a small door plaque, we create the right panels for you, your business, and needs.
Monument Signs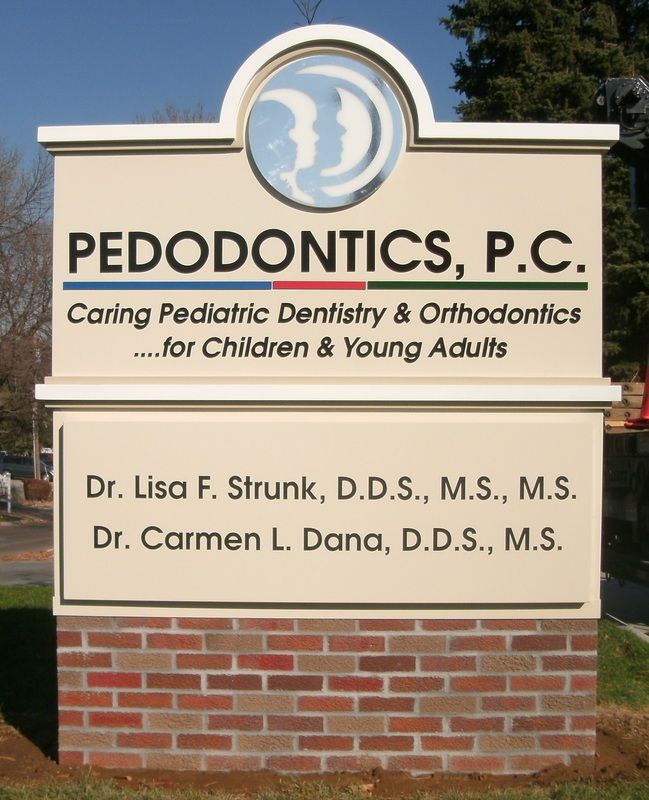 Impressive, impactful, and durable, monument signs create a sense of permanence and longevity that reflects positively on your business and brand. Often crafted from marble, stone, brick, concrete, or other durable materials, these permanent signage elements can include etching, carving, or may even be fitted with dimensional lettering, a sign panel, or even a digital or manual message center.
Monument signs are very versatile. With construction specific to your desires, neighborhoods, business centers, corporate offices, campuses, churches, private clubs, resorts, government buildings, and many other business types can get the perfect monument sign created to accurately reflect their business and brand personality.
Pole Signs & Pylon Signs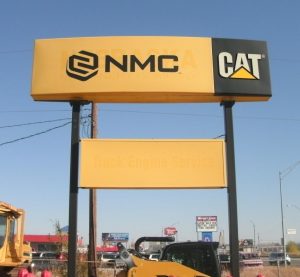 Pole, pylon, and tenant signs are all impressive, impactful methods for gaining visibility for your business. Towering high above competing businesses and signage, pole signs can often be seen from great distances, allowing more potential customers to be exposed to your brand, and for a longer period of time than other signage types.
There are many different options for crafting your pole sign, from individual sign panels to multi-paneled tenant signs, digital message centers, and more. Whether you desire to promote your brand, promote all the businesses in your shopping center, or share a specific sales message with as many people as possible, then eye-catching and high-impact pole signs are a great choice for your business.
Complete Exterior Signage Provider
As your complete Aurora outdoor signs and graphics provider, we deliver the promotional and brand identifying signage you need to improve customer perception, build foot traffic, and increase brand recognition.
From impactful pole signs to flag signs, banners, digital displays and message boards, storefront signage and more, we deliver the exterior signage you need to support your company goals and effectively promote your business, organization, or cause.
We are focused on delivering attractive, targeted signage that meets the needs of your business while supporting your goals of business growth, awareness, and improved bottom line.
Some of our exterior sign options include:
Don't see the exact sign that you are searching for? Our expert custom sign and graphic professionals can assist with any type of signage requests you may possibly have. We look forward to creating the right outdoor signs, indoor signs, vehicle wraps, and any other commercial signage you require or desire!
Full-Service Exterior Sign Company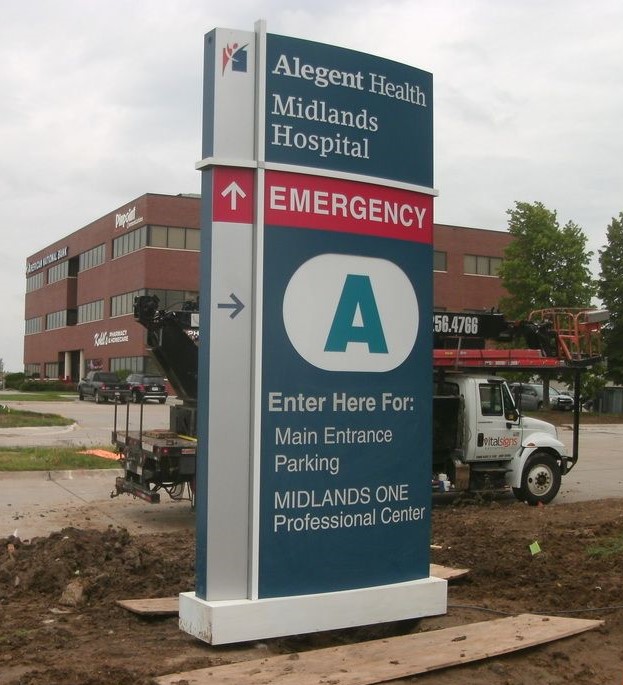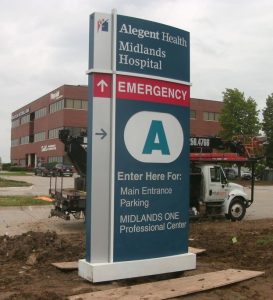 Ready to deliver for you, VitalSigns manages every aspect of your outdoor sign and graphic project from start to finish. Assisting with conceptualization, sign and graphic design, fabrication, and installation, our experts are dedicated to providing the right sign at the right time for the right price.
Outdoor signage can seem like a big project, but with the right team on your side, getting the perfect signs and graphics can be simple! Our experts work directly with you to determine size, placement, materials, display methods, and can assist with lighting and visibility. We understand that for a sign to be effective, it must be easily seen and understood, and we take those elements to heart with every project we deliver.
From earth-friendly production processes to professional installation, we go the extra mile to ensure your experience with us is a positive one. Whether you need additional sign elements, supporting graphics, or would like to create an entirely new collection of storefront or promotional signage, our experts help you understand what you need and are excited to deliver it for you.
Free Outdoor Sign Consultation
VitalSigns is your Aurora,NE outdoor signs and graphics provider, delivering the attractive, compelling outdoor signs your business needs! From customer generating and brand supporting to product promoting signage, we keep your goals and brand in the forefront while delivering impactful signage that works for you.
When you need a dedicated, experienced sign company to deliver for you, look no further than the experts at VitalSigns. We deliver the signs you need to help your business succeed.
Call VitalSigns at (712) 248-8339 for a Free Consultation with an Exterior Sign Specialist!