Genoa Vehicle Wraps & Graphics
View Vehicle Wrap Gallery
Instantly improve your brand and business visibility with long-lasting, eye-catching, and brand supportive commercial vehicle wraps and graphics by VitalSigns!
High-quality, durable vinyl wraps, graphics, and lettering allow you to promote your brand, business, products, and services everywhere your commercial vehicle can be seen. From driving to appointments, running errands, sitting at traffic lights, or even parked in the lot of your business, a branded vehicle wrap helps to reinforce your business presence and remind customers that you are ready to go to work for them.
We create cohesive wraps for every vehicle in your fleet. From branded van wraps and truck wraps to boat wraps, tractor-trailer wraps, ATV wraps, or any other vehicle you use for business, we make sure your project is perfectly executed for maximum impact.
Call VitalSigns at (712) 248-8339 for a Free Consultation!
Vinyl Graphics, Partial Wraps, & Magnets
There are many options for the type of vehicle you get wrapped, the design of your wrap, and the coverage level itself. We work directly with you to understand which coverage level and design will best suit your vehicle, needs, and budget.

Full Vehicle Wraps
Complete coverage with a full vehicle wrap for your truck, van, bus, car, or trailer provides maximum visibility for your business and brand, as well as greater design versatility.
When you use your entire vehicle as a canvas, we are able to perfectly place all marketing messages, contact details, and branding information so that it can be most effective. With striking, full-color designs and graphics, these wraps are eye-catching and memorable. The heavy-duty, high-quality vinyl wrap material that serves as a protective coating for your vehicle, providing longer life and reduced wear to your factory paint, and reduces the impact of common road damage.
Partial Car Wraps
If full wraps aren't in your budget, or you are looking to target your marketing to an individual area of your vehicle, then partial vehicle wraps may be the right choice for your business and needs.
We can apply solid sheets of wrap material to completely cover any area or combination of areas that you desire, from side panels, doors, bumpers, tailgates, or hoods. We can recommend placement to help you get the most exposure possible for your message. Partial wraps are applied to entire panels just like full wraps are, which provides a seamless, professional finish.
Vinyl Graphics & Lettering
Cut vinyl graphics and letters can also be applied to your commercial and fleet vehicles. From incorporating your logo to providing DOT information, individual vinyl elements provide a lot of flexibility for placement and adjustment.
While you won't get the seamless appearance of a full or partial wrap, cut vinyl elements can be removed, updated, or replaced without compromising the rest of your design, so if your phone number or website address changes, you can simply remove and replace those elements rather than investing in an entire vinyl panel replacement.
Vehicle Magnets
Do you prefer the ability to control when and where you display your marketing message? Vehicle magnets are easily repositioned, removed, or replaced, allowing you to control the message you are sending at any particular time. Highly-customizable, they can be crafted in most styles, shapes, and sizes.
There are many reasons why a removable option is preferred, from those who work as contractors for multiple agencies to those who just like to drive a little faster on their personal time. Other businesses may opt for a magnet because they use multiple vehicles, or don't have the ability to permanently affix graphics to their vehicle for any other reason.
Perforated Window Film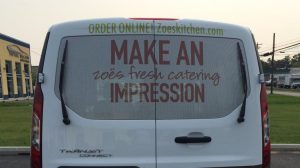 There are many different finishing touches that can be incorporated into your wrap. One of the most impactful and popular is perforated window film. This innovative material lets you display a marketing message to those outside your vehicle without obstructing the view from within.
We can also wrap door handles, side-view mirrors, and other elements of your vehicle so that they are seamlessly incorporated into your complete design.
Whether you desire a full vehicle wrap, some impactful graphics, or a magnet to set customers at ease, we deliver the right graphics for your vehicle, use, and desires.
Professionals Wraps For All Vehicle Types
From full semi-truck and trailer wraps to promotional magnets for your smart car, we tackle vehicle wrap jobs of all sizes and scope with skill, expertise, and experience.
From wrap layout and design to final installation, our Genoa vehicle wrap and graphic experts support you through every stage, ensuring that your finished product is in-line with your expectations and our high standards for quality. We understand how to best highlight your key value statements, what images best portray your business personality, and create a final design that is both attractive and complementary of your vehicle's shape and curves.
Our commercial vehicle wrap services include:
In addition to our full vehicle wrap and graphic services, VitalSigns delivers high-quality commercial signage for every need and business type, including supportive indoor signs, promotional outdoor signs, and any other custom signs you need.
Attractive Wraps for Your Entire Fleet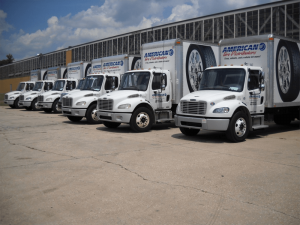 Any business can benefit from the value a professional vehicle wrap provides. When you have an entire fleet of corporate vehicles at your disposal, the benefit is exponential! We can modify your wrap design to suit all of the different vehicle types in your fleet, ensuring a consistently professional appearance and repeat opportunity to reinforce branding each time your vehicles are seen.
For contractors, house calls are a common occurrence, and can also be confrontational. Many homeowners are uncomfortable allowing strangers to enter their homes. With branded vehicle wraps or graphics, a homeowner can feel more confident that the cable installer, electrician, exterminator, contractor, or other provider on their doorstep is an official representative of the company they claim to represent. This leads to a smoother initial interaction for both your team member and the homeowner and an overall higher customer satisfaction rate.
Full-Service Vehicle Wrapping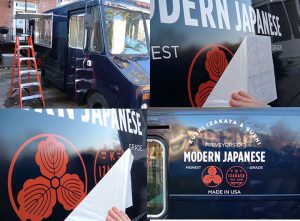 We understand the importance of getting your messaging right. With a full staff of Genoa, NE vehicle wrap and graphic experts at our disposal, we provided expert support through your entire wrap project, from assisting with layout and design to element fabrication and finally prep and installation on your vehicle.
Your wrap is only as effective as the quality of your design, materials, placement, and installation. We understand that every one of these elements is vital to delivering an impactful wrap that supports your business and brand. We work diligently to ensure we are creating the ideal wrap for your specific vehicle type, purpose, and intended use, providing the right materials, experts, and advice to make sure the job is done right.
Free Vehicle Wrap Consultation
For every vehicle, every amount of coverage, and every type of graphic application, VitalSigns is your dedicated and experiencedGenoa vehicle wrap provider.
Delivering durable, high-quality, and high-impact vehicle wraps, graphics, magnets, and lettering, we create attractive signage elements that you can take everywhere, effectively increasing your brand visibility and reaching more new potential customers than ever before.
If you are ready to start a new wrap project or want to learn more about how vehicle wraps can positively impact your business, let's talk.
Call VitalSigns at (712) 248-8339 for your Free Consultation with a Vehicle Wrap Specialist!